You may also be looking for another Maureen Robinson
Professor Maureen Robinson is a character on Netflix's Lost in Space. She has a PhD in Engineering, and was one of the four principal engineers responsible for the design of the Resolute's safety systems. She has three children with John Robinson; Penny Robinson, Will Robinson, and Judy Robinson.
This article is a stub, or very short article, that is most likely incomplete and needs expansion.
Personality & character
[
]
"You know, I've made my share of mistakes, as a mother, as a wife, but one place I don't make mistakes is my job."
- Maureen Robinson to Captain Kamal, "Unknown"
Maureen is a mother and an aerospace engineer with a fearsome intellect. A driven and demanding woman both in and outside her home, it's Maureen who makes the decision to bring her family into space. She wants her children to have a chance at a new life on a better world. Her endless determination is infectious. She's convinced there is no problem that can't be solved if you apply your mind to it. There are some things that she can't fix, however, and must leave the problems to the rest of the family. When this happens, however, Maureen feels very uncomfortable, because she knows she is the smartest and most experienced person she has ever met, and has a very hard time entrusting the lives of her family to anyone else. It is up to her to find a way off the strange planet on which she and her family have crashed, but her greatest challenge is forgiving her husband and rekindling the love they once had. Once someone betrays her in any way, she has difficulty forgiving them and holds many grudges. Maureen has extreme trust issues, and refuses to rely on almost anyone else for her own comfort.
Maureen dislikes the idea of weapons within her household. As opposed to her husband, she trusts the Robot, feeling that it is protecting her son, Will. She never had any siblings, but thinks it would have been nice. ("Infestation")
Despite her issues with her husband, John, she never spoke with a therapist ("Eulogy"), reinforcing the fact that she has major trust issues.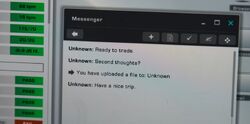 Maureen is very outgoing and always wants to keep her family safe no matter what. This sometimes led her to actions of questionable morality. In one such instance, she was determined that her son Will would join her family on the 24th Mission despite Will having failed the stress test required of all colonists on the mission. In order to secure him a spot, she traded secret information with an individual in order to falsify his test results. ("Impact") This later came back to haunt her, when the information she bartered turned out to be security codes, which were used against her by Hastings, an intelligence officer of the Resolute. ("Unknown")
Mutiny
[
]
One of Maureen's boldest actions was leading a mutiny against the acting captain of the Resolute, Captain Kamal, upon learning that the crew of the vessel planned to leave behind those stranded on the amber planet due to most of the vessel's water being poisoned and not having enough water to sustain more than a skeleton crew. She hatched her own plan to purify the vessel's water, but in order to do had to take command of the bridge. She worked together with both her family, as well as the devious "Dr. Smith," against her better judgment. From the info they gathered, she learned that Neil Caird, the security officer assigned to the bridge, owed his life to a man named Anton Penn who was still trapped on the planet. She used this information against him to convince him to lock out the security team that had been sent to the bridge to stop her.
Maureen quickly put her plan into motion. Although Kamal had her doubts, she told her that while she may have made mistakes in the past when it came to her family, she did not make mistakes when it came to her job. However, the one thing that she couldn't account for her was human nature. Hastings was dead-set against her, and used the codes that she had given him against her at a critical moment. Although her plan at purifying the vessel's water was successful, her actions ultimately fomented distrust against her and her family throughout the vessel. ("Unknown")
Skills and abilities
[
]
Professor Maureen is extremely intelligent and a trained aerospace engineer. She possesses the skills needed to launch a balloon to carry herself into space and learn that the unknown planet is being affected by Hawking radiation from a black hole. ("Transmission") When Captain Kamal of the Resolute planned to abandon colonists on the amber planet to save the ship, she devised and executed a risky plan to save them all. ("Unknown
Romantic Life
[
]
Maureen fell deeply in love with Navy Seal John Robinson. A few years later, they were married. Judy and John got along very well and they formed an extremely close bond despite the fact that they weren't related. Judy took after her adoptive father more than she ever took after her mother, even adopting the last name Robinson instead of Kelly (Hence the name Judy Robinson).
Despite how close Maureen was with John, she eventually tired of his job. He kept going on missions for the military, and those trips got longer and longer until he was absent for months and even years. When all three of their children were in there teenage years, John and Maureen split, and even considered filing for divorce. John travelled with them on the 24th colonist group, though, and the two ex-lovers got closer again, even if slowly. By the beginning of season 2, they were in a stable, full-fledged relationship once again.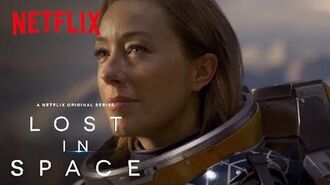 Appearances
[
]
Gallery
[
]
[

]