Season 3 of the Netflix series Lost in Space premiered on Netflix on December 1, 2021. This season has been announced as the final season of the program.
The final season has only 8 episodes.
Synopsis
[
]
In the third and final season of Lost in Space, the stakes are higher than ever and the Robinson family's survival instincts will be put to the ultimate test. After a year of being trapped on a mysterious planet, Judy, Penny, Will and the Robot must lead the 97 young Colonists in a harrowing evacuation -- but not before secrets are unearthed that will change their lives forever. Meanwhile John and Maureen -- with Don at their side -- must battle overwhelming odds as they try to reunite with their kids. The Robinsons will have to grapple with the emotional challenge of not just being lost -- but being separated from the ones they love... as they face the greatest alien threat yet.
Episodes
[
]
No.
Title
Directed by
Written by
1
"Three Little Birds"

Frederick E.O. Toye

Matt Sazama & Burk Sharpless

A year into their mission with the children of the Resolute, Judy, Penny and Will scramble to find the titanium they need to get to Alpha Centauri.

2
"Contact"

Kevin Rodney Sullivan

Zack Estrin

While Judy sets out to find Grant Kelly, Penny and Will explore a mysterious tunnel. Light years away, Maureen, John and Don hunt for SAR's remains.

3
"The New Guy"

Sarah Boyd

Vivian Lee

Scarecrow helps Maureen and John plot an engine heist. Judy returns to camp with new passengers. Will makes a startling discovery in the alien city.

4
"Nothing Left Behind"

Julian Holmes

Daniel McLellan

As the adults race to destroy all clues to the location of Alpha Centauri, the Robinson kids receive an ominous message from SAR.

5
"Stuck"

Leslie Hope

Kari Drake

After crashing on a boggy planet, Maureen and Judy contend with a massive salivating creature, while John and Penny work to free the trapped Robot.

6
"Final Transmission"
Julian Holmes
Katherine Collins

The story of Don's run-in with SAR leads the Robinsons to an alarming realization. Will sneaks out on a dangerous solo mission.

7
"Contingencies on Contingencies"
Leslie Hope
Zack Estrin

The Robinsons race to get help for Will, warn the colonists and activate a secret defense system. Vijay tags along with Penny on a risky outing.

8
"Trust"
Jabbar Raisani
Matt Sazama & Burk Sharpless

As the battle for Alpha Centauri unfolds, the Robinsons and their friends risk everything to restore peace and pave the way for a better future.
All episode summaries provided from Netflix.
Timeline
[
]
The third season reportedly began filming on September 9, 2020.[1] Production on the third season was reported to have wrapped in mid-January 2021.
On September 26, 2020, Mina Sundwall and Maxwell Jenkins tweeted photos from the show's set.[2]
On Wednesday, October 6, 2021, Netflix tweeted a photo from the new season of Will Robinson and the Robot and confirmed that a teaser for season 3 would be coming the next day.[3]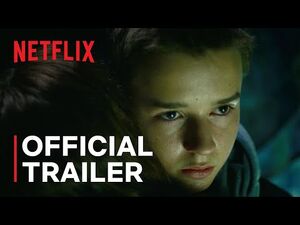 On Thursday, October 7, 2021, Netflix released a teaser, including the release date of "Lost in Space" season 3. All episodes are scheduled to release on December 1, 2021.
On Tuesday, November 9, 2021, Legendary released a short video stating that the official trailer for Netflix's "Lost in Space" season 3 would be released on Wednesday, November 10, 2021.
On Wednesday, November 10, 2021, Netflix released the official trailer for Season 3.
On Tuesday, November 23, 2021, Netflix released posters of "Lost in Space" characters Will Robinson, Penny Robinson, Judy Robinson, John Robinson, Maureen Robinson, Don West and June Harris (Dr. Zoe Smith).
Cast
[
]
Trivia
[
]
In an interview, season 3 cast member Russell Hornsby states that his absence in the trailer for the season was intentional and that he had been asked to be "hush hush" about the character, that "They want to make it a nice reveal."[5] His character was later revealed to be Grant Kelly, which had already been widely speculated by fans.
Gallery
[
]
Images and posters
[
]
Character posters
[
]
Trailers in other languages
[
]
Notes and references
[
]
↑ Perry, Spencer (September 4, 2020). Lost in Space Season 3 Begins Filming Next Week. Comicbook.com. Retrieved on September 6, 2020.
↑ Walter-Warner, Holden (September, 25, 2020). Netflix's Lost In Space Season 3 Begins Production. Screenrant. Retrieved on September 26, 2020.
↑ Netflix Announces Lost in Space Season 3 Teaser Is Finally Coming. Comic Book (October 6, 2021). Retrieved on October 6, 2021.
↑ Petski, Denise (September 29, 2020). 'Lost In Space': Russell Hornsby To Recur In Third Season Of Netflix Series. Deadline. Retrieved on October 2, 2020.
↑ Alexander, Brenda (November 18, 2021). 'Lost in Space' Season 3: Russell Hornsby Dishes on Joining the Netflix Series in Secretive Role (Exclusive). Pop Culture.